Coppelia is a highly acclaimed comic ballet classic. Our wonderful version, as staged by Joanna Kneeland, is madcap farce involving an eccentric inventor, the animated doll he creates and the havoc they cause in their small village.  Music, costumes, sets and the dancers' skill combine to make this a performance event you will not want to miss.
In this exciting interpretation of Coppelia, we have not only great dancing but also great theatre.  The original production was so popular on the stage that it was made into an award-winning motion picture featuring Walter Slezak.  This funny and fast paced story is the perfect first ballet for novices of all ages and is a bright new perspective for those already familiar with the ballet. 
The Story of Coppelia

The day before his wedding, Franz, begins flirting with the beautiful girl blowing kisses to him from her balcony.  The bride, Swanilda, seeing Franz's flirtation, rebuffs him and is determined to speak to this girl Coppelia, that lives in the house of the mysterious recluse, Dr. Coppelius. 
Swanilda and her friends, find the Doctor's key and seize the opportunity to sneak into his house.  Once in the house the girls discover that Coppelia is actually one of many mechanical dolls.  Unaware that the girls are in the house, Franz also enters the house through the balcony to meet the lovely girl Coppelia.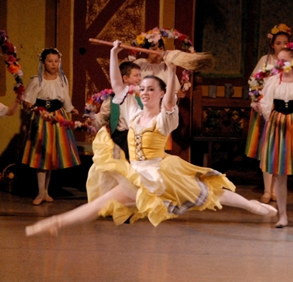 Dr. Coppelius returns unexpectedly.  All of the girls escape except Swanilda, who then disguises herself as the doll Coppelia to avoid detection. When Franz enters he is caught by the Doctor who gives him a sleeping potion.  It is Dr. Coppelius' plan to use magic and take the life from Franz to transfer it to his most beautiful creation, Coppelia.  Comic confusion results from Swanilda's guise as the doll.  Finally, Franz and Swanilda escape, leaving the Doctor with his shattered dreams and broken dolls. 
Come and see how all is resolved.  Will Franz and Swanilda reunite and get married?  Will the Dr. continue his life as a recluse?  Or will there be a happily ever after ending for everyone.
For more than 40 years, METRO DANCERS has been offering these popular performances just for students.  Last year thousands of students attended our school performances.  This ballet is appropriate for all ages, from grade through high school.  Make sure that your students do not miss this exciting opportunity to see a live dance theatre performance. 
METRO DANCERS is a company of rising pre-professional and professional dancers.  These dancers represent the best of the Portland metropolitan area.  We have previously offered performances of Alice in Wonderland, La Fille Mal Gardee, and Les Ruses d'Amour to enthusiastic sold-out school audiences.
Comments About Metro Dancers' Productions
School Performances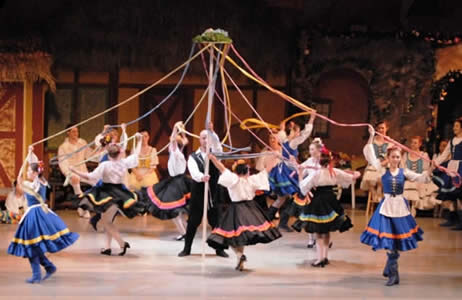 Please, please put us on your mailing list for next year.I could not believe how totally involved my students were.
Wow!Everything was just first-rate from the teacher information to the performance.Even the macho boys enjoyed it.
The production values far surpassed my expectations.This group of performers is outstanding.The students talked about it all the way back to school.Great job!
Some of my students had never seen a ballet before.Even the boys who try to be tough and cool were fascinated.
Once the program began, my students didn't even move until the end.That says a great deal.Thanks also for the music CD to help the kids become familiar with the score.They were humming the tunes for weeks after.
The ballet was wonderful.Many of my students said it was the best field trip they had ever been on.
We felt that it was "just right" as an introduction to an art form that many of our students were unfamiliar with.
It was wonderful!A great experience for everyone!The pre-performance presentation was extremely important.It helped the kids get excited about it.
Public Performances
A first-class production. The choreography, the costumes and the performance were just unbelievable.
I had never seen this ballet before and found it absolutely enchanting. What fun!
I came back for a second time with more friends because it was so well done. I was so impressed with how professional even the youngest dancers were on stage.
I brought my whole family to this, even my sports enthusiast husband and everyone found it entertaining and exciting to watch.
For ticket information, click here.